Steep viticulture
means manual labor, mechanization is often difficult to impossible. Fully mechanized operations like in flat or sloped vineyards are simply not possible in many of our terraced slate vineyards. Pruning, planting, binding, tying up shoots, working the soil, phytosanitary treatments and harvest are all done by hand. We only have a few vineyards which we can work with the assistance of a tractor, winch and rail cart.
Since the founding of the winery we have always worked our vineyards ecologically and sustainably. Our natural cover crop serves as an example. So-called "weeds" are often important host plants for beneficial insects and their roots help prevent erosion on the steep slopes, but naturally they are also competition for water. Instead of using herbicides to remove these plants and using chemical fertilizers, both expensive and laborious processes which often do more harm than good, the cover crop is mown or ploughed, serving as a supplier of humus and as a green fertilizer.
We generally harvest the majority of our grapes between late September and late October, regardless of the increasing risk of rain, hungry birds or boars, as many aromatic compounds and a harmonious balance between sugar and acidity do not reach their optimal levels before the end of a long growing season. This means that a relatively late and differentiated harvest is generally extremely important for the quality of the wine. The grapes are selected and harvested into small cases, before being processed in the cellar.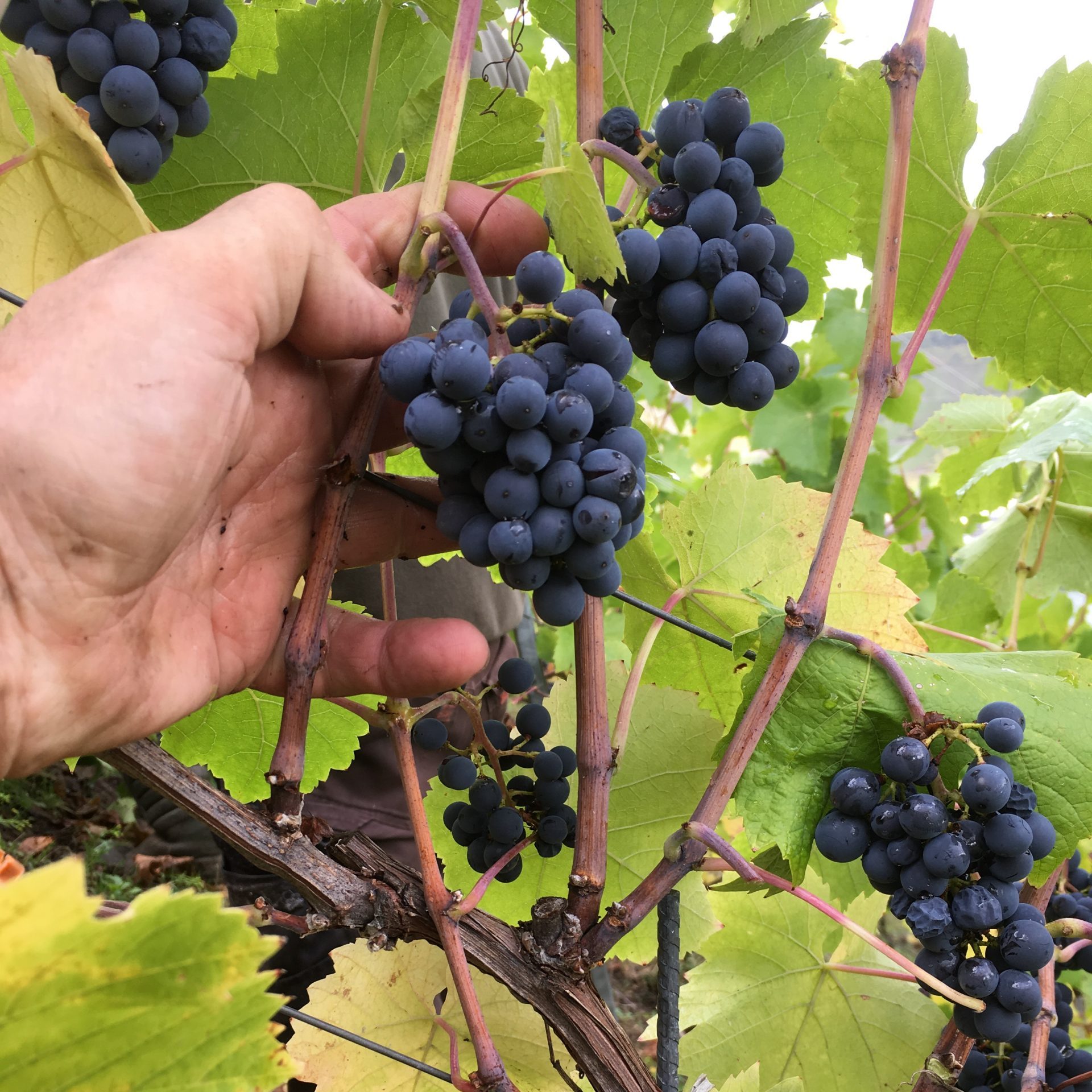 The Spätburgunder vines planted in 1987 in the Stein winery were some of the first "red" varieties, in what was then still a purely white region, became a great success. Today Cabernet and Merlot are also part of the Stein red wine portfolio. South-facing vineyards with slopes of up to 70 degrees store the heat of the sun in the slate, creating ideal conditions for red grape varieties, as they need even more sunshine and warmth as our white ones. As pigmentation is directly related to the amount of sunshine, the vines are planted less densely and older leaves in the fruit zone are removed towards the end of Summer. Very low yields allow us to pick beautifully ripe and dark-skinned grapes about one to two weeks before the Riesling harvest.
Read the story of Redwine in the Moselvalley
These low yields of 4000-6000 liter per hectare, translating into about one bottle per vine, combined with the local climate, sites, soil and grape variety are some of the most important aspects in creating high-quality red wines with good dry extracts and a long lifespan.
More information on our methods and way of working can be found in the annual wine letters.